Wedding Ceremony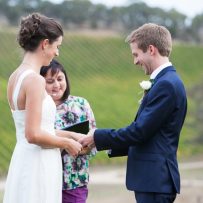 Your wedding day is something you will remember for a life time. It is the day you get to stand up in front of all the people who matter the most to both of you and declare the love you have for each other and your commitment to
spend the rest of your lives together as a married couple.
As your marriage celebrant it is my privilege to officiate at your wedding and to strive to ensure that your wedding ceremony sets the tone not only for your wedding day but also for your marriage.
Whether you are having a wedding that is large or small, casual or formal, traditional or offbeat we will work together to create the perfect ceremony for you. We can add as many or as few traditional elements as you desire. You can add special music, poems, readings or rituals to symbolise and reflect your values, cultures , traditions and family situation. I will do everything I can to make sure that your ceremony is exactly what you want it to be.
As well as personalising the wedding service, my role as a marriage celebrant is to ensure that the marriage is legal.
I will comply with all legal requirements. I will include all the compulsory wording within the ceremony and complete and lodge all the necessary documents to ensure that your marriage will be legal.