Renewal of Vows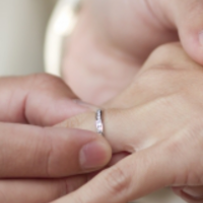 A wedding is a celebration of falling in love and beginning a marriage. A ceremony to renew these vows is a celebration of staying in love and staying married.
Couples who choose to renew their wedding vows often choose to do so on a significant anniversary or an important event such as coming through a serious illness.
A Renewal of vows ceremony can be formal or informal, simple or elaborate, serious or light hearted.
Vows can be personalised to reflect your journey, and other rituals may be included to recognise family and friends.
Milestone wedding anniversaries such as a silver or golden anniversary often have a ceremony as the focal point of the celebration. It is an opportunity to recall the happiness of the past, while creating new hopes and memories for the future.
As your celebrant, I will help you to create a ceremony that will make your day truly memorable, not only for yourselves but also for your friends and family.