Commitment Ceremonies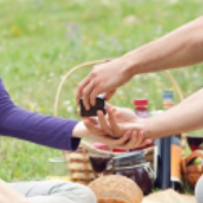 Couples seeking a formalisation of their partnership will find me supportive of commitment ceremonies.
A Commitment ceremony is an opportunity to reveal your heartfelt commitment to being life partners and will certainly validate your relationship in the eyes of your family and friends.
I can work with you to create a commitment ceremony that reflects your love story and your promise for the future.
The commitment ceremony can include many familiar ceremonial elements, including a procession, vows, ring exchange, declarations and blessings.
You may choose to include readings, a unity ritual, special music , or rituals to honour family especially any children.
Alternatively it may be very simple and casual, with the speaking of simple vows, among a small group of family and friends.